The garden of the Bicorna is a result of the every day care of Helen, who looks after the flowers, while her husband Vasilis, looks after the trees and the vegetables.
Mr. and Mrs Goustis have a special affection for nature and always try to keep their garden in a perfect state. The result outcome brings joy and satisfaction both to them and to their guests, as they daily enjoy the splendid perfumes, the colors, the shade and coolness of plants and trees, while having breakfast or refreshment or when admiring the sunset.
Bicorna has large meeting places, where guests can entertain themselves by watching TV, chatting, playing games or even by surfing in the Internet.
The owners pay special attention to the quality of the services provided and to the best care of their guests, so that all of them are pleased and come back again, along with their friends.
Swimming pool - Cafebar Bicorna
This summer at our upgraded Family Hotel BICORNA
Bicorna Family Hotel organizes special nights including live music, Karaoke singing, quiz nights, painting exhibitions etc. Furthermore, Bicorna Family Hotel handles for everybody (guests or not) happenings such as anniversaries, birthday – bachelor party etc.
For further information or booking contact with us.
During your staying, there is always the potential of learning how to dance traditionally with a Greek or Cretan way!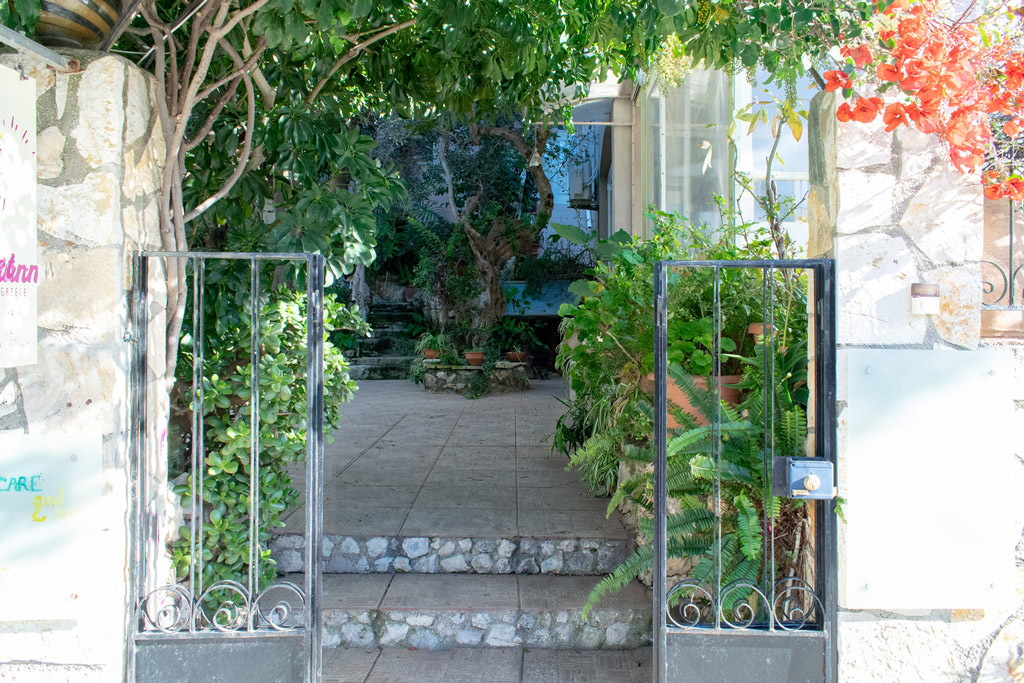 The sunset over Souda Bay (the biggest natural port of the Mediterranean) is one of the attractions of the area. The colors of both the horizon and the sea, as well as the direction of the sun from season to season constantly changing, create majestic images.
The Fortresses of the ancient city of "Aptera" and "Itzedin", dominate over the left situated hills, while exactly opposite the small islands of "Lefke", decorate the Bay. West of "Aptera", in front of the well – organized beach of Almyrida and at the inner parts of Souda Bay, there is a small island called "Karga". All around, catamarans and surf boards, call for unique moments of joy to the sailing fans. The sandy beach of Almyrida, located one kilometer away from the traditional village of Plaka and the Bicorna Hotel, is absolutely clean and safe, gaining the Blue Flag every year.
Special boats make trips to Souda Bay for the visitors to admire and to enjoy swimming in the crystal-blue waters of the Bay.